Last Updated: 3 weeks ago
Become the richest miner in the game!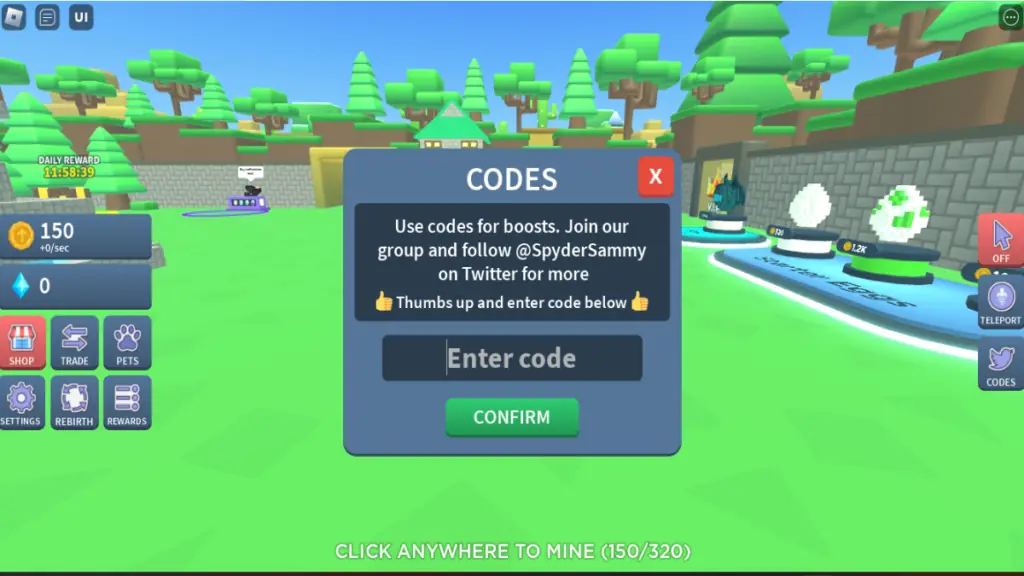 Mining Clicker Simulator is the latest and greatest mining experience on Roblox! This game allows you to mine as many ores as you want, hatch your very own pets from purchasable eggs, and sell your valuable ores to become the richest miner in the game! Who wouldn't want to play this mining-themed Roblox game?? If you want to play Mining Clicker Simulator but you don't want to do any early-game grinding, try using the Mining Clicker Simulator codes on this list to give yourself an extra boost!
All Mining Clicker Simulator Codes
Current Codes:
Expired Codes:
Mining Clicker Frequently Asked Questions
How Do You Redeem Promo Codes in Mining Clicker Simulator?
Many Roblox games make redeeming promo codes a very complicated affair, but thankfully, this is not the case with Mining Clicker Simulator. Just follow these steps to redeem your Mining Clicker Simulator codes:
Open Mining Clicker Simulator in Roblox.
On the right side of the screen, there should be three square icons. Click on the third icon on the bottom, with the Twitter symbol on it.
After you click on the icon, a small window should pop up with a textbox. Accurately type your promo code into the textbox and then click the confirm "Confirm" button underneath the textbox.
Congratulations! If you followed these steps correctly, you should have successfully redeemed your promo codes in Mining Clicker Simulator!
Mining Clicker Simulator is only one of the many amazing mining games available on Roblox. If you love Roblox mining games, check out GamerJournalist's articles on Manic Mining and Mining Simulator 2!