Last Updated: 1 day ago
You can finally win with codes!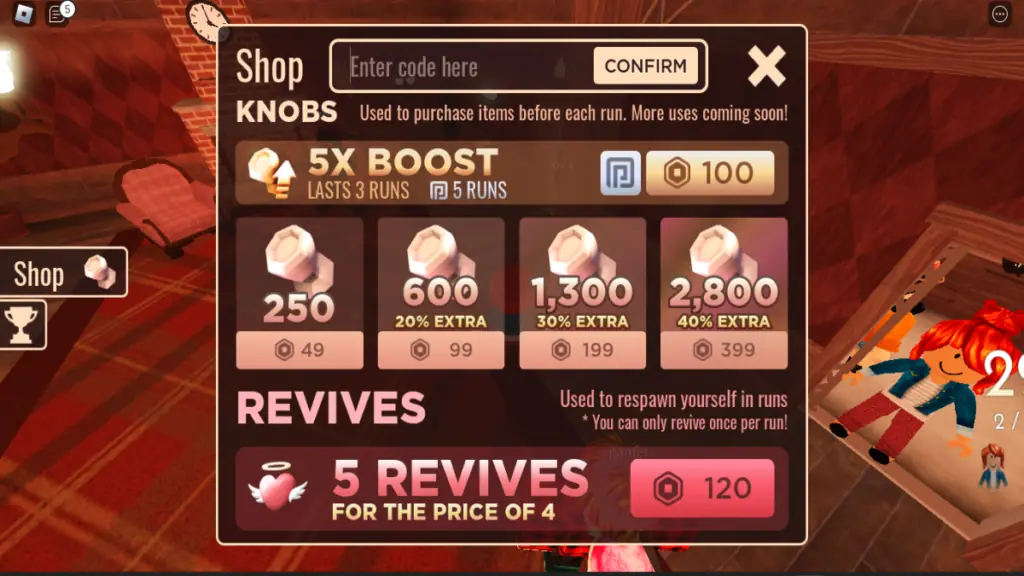 DOORS is one of the latest and most popular horror experiences on Roblox. DOORS is full of terrifying mazes and confounding puzzles; you need to play this game a dozen times to even get close to winning! One thing that can help you beat the game without endless hours of playing is promo codes! Promo codes are a great way to help you win any game, but they're especially useful in DOORS, since this game seems nearly impossible to beat. keeping reading if you want to be able to use the best and latest available codes for DOORS!
All DOORS Codes
Current Codes:
THREE—Redeem for a revive and Knobs (New)
SCREECHSUCKS—Claim this code for 25 Knobs
Expired Codes:
2BILLIONVISITS—Redeem for a revive and 100 Knobs
SORRYBOUTTHAT—Claim this code for 100 Knobs and 1 Revive
SORRYFORDELAY—Claim this code for 100 Knobs and 1 Revive
ONEBILLIONVISITS—Claim this code for 100 Knobs, 1 Revive, and 1 Boost
PSST—Claim this code for 50 Knobs
LOOKBEHINDYOU—Claim the code for 10 Knobs and 1 Revive
TEST—Claim the code for one Knob
500MVisits—Claim the code for 100 Knobs and 1 Revive
100MVISITS—Claim the code for 100 Knobs and 1 Revive
DOORS Frequently Asked Questions
What are Knobs Used For in DOORS?
Knobs are a form of in-game currency in DOORS. You can use Knobs to buy items before runs, such as Lighters and Lockpicks to help you win! These kinds of items can be extremely helpful for players who keep running out of time on runs, or keep getting stuck on certain levels. You can never have too many Knobs in DOORS, so be sure to always check back on this page to check out the new codes!
How Do You Redeem Promo Codes in DOORS?
You need as many resources as you can get in DOORS if you're going to survive each run, so anyone who redeems promo codes is at an advantage! Redeeming codes is incredibly easy in DOORS, all you have to do to redeem your codes and collect your rewards is follow these easy steps:
Open DOORS in Roblox.
On the left side of the screen, there should be a Shop icon. Click on the icon, and a small window should pop up.
At the top of the Shop window, there should be a text box. Accurately type your promo codes into the text box and then hit the "Confirm" button, located to the right of the text box.
Congratulations! If you followed all of these steps currently, you should have successfully redeemed your DOORS promo codes!
DOORS is only one of the many amazing horror games that can be found on Roblox. If you love playing Roblox horror games, check out GamerJournalist's many guides and codes stories on scary Roblox games!